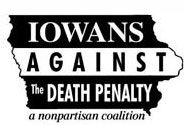 News
Monthly Newsletter, March 2023
NOTICE OF ANNUAL MEETING
Iowans Against the Death Penalty will conduct its annual meeting virtually on Saturday morning, October 23, 2021, from 10:00 am CDT until all business is completed.
If you are interested in attending, please R.S.V.P. to Marty Ryan, IADP President, before noon on Friday, October 22, 2021, and an agenda and Zoom information will be sent to you.
Marty Ryan
info@iowansagainstthedeathpenalty.org or mrtyryn@gmail.com
Monthly Newsletter, January 2021
Death penalty bill passes out of Iowa Senate subcommittee
Senate Study Bill 1004 (SSB 1004) passed out of the Senate Judiciary subcommittee by a vote of 2-1. It was not a surprise. Republican Senators Julian Garrett (R-Indianola), chair; and Jason Schultz (R-Schleswig) were the two voting to move the bill forward to the full Senate Judiciary Committee. Senator Tony Bisignano (D-Des Moines) was the sole vote against moving the bill.
If enacted the bill would create a "capital murder offense by establishing the penalty of death for murder in the first-degree offenses involving kidnapping and sexual abuse offenses against the same victim who is a minor." It has been said by proponents that "currently in Iowa, the stiffest penalty is the same for kidnapping and raping a minor as it is for kidnapping, raping and murdering a minor." Technically, that's right. However, if a child in Iowa is kidnapped, raped, and murdered now, a prosecutor would be wise to go after a punishment of life in prison for each count. That would mean three consecutive life sentences. If the defendant was found not guilty of one of the crimes, the other two would result in two consecutive life sentences. On the other hand, if the defendant is charged with capital murder, and "a technicality" negates the sentence, the defendant could possibly walk out of prison. It's doubtful that would happen, but the question must be asked: What if?
At its peak, 129 people connected to the Zoom call on the subcommittee meeting. The tone was respectful and serious. Twenty-two of the attendees spoke. All but one individual opposed the bill. The person supporting the bill was Rev. Samuel Jones of Faith Baptist Church in Hudson.
Rev. Jones more than supported the bill; he suggested that the death penalty be invoked for all murders. His basis was Chapter 13 of Saint Paul's Letter to the Romans.
"Let everyone obey the authorities that are over him, for there is no authority except from God, and all authority that exists is established by God. As a consequence, the man who opposes authority rebels against the ordinance of God; those who resist thus shall draw condemnation down upon themselves. Rulers cause no fear when a man does what is right but only when his conduct is evil. Do you wish to be free from fear of authority? Do what is right and you will gain its approval, for the rule is God's servant to work for your good. Only if you do wrong ought you to be afraid. It is not with purpose that the ruler carries the sword; he is God's servant, to inflict his avenging wrath upon the wrongdoer. You must obey, then, not only to escape punishment but also for conscience sake." Romans 13: 1-5
That's sort of a stretch to find a segment of the New Testament that some interpret as acquiescing to the government for its ability to do God's work by "inflicting his vengeance wrath." This argument in favor of justifying the death penalty has been used before, but mostly in recent years. It seems to have arisen since many people now know what Jesus said about capital punishment as it was applied in the Old Testament.
"You have heard the commandment, 'An eye for an eye, a tooth for a tooth.' But what I say to you is: offer no resistance to injury. When a person strikes you on the right cheek, turn and offer him the other." Matthew 5: 38-39.
St. Paul wrote several letters to the Church in various regions. Letters were sent to the Romans, the Hebrews, the Church at Corinth and several other locations throughout the Mediterranean Sea. One of those letters required women to cover their heads while praying, while men were to worship bareheaded 1Cor 11: 1-16. St. Paul's reason was inane – "because Christ is supreme over every man [and] the man is supreme over his wife." Another letter instructs slaves to obey their masters. After his direction for men to be supreme over their wives, he continues: "God is supreme over Christ." How many Christians are taught that God and Christ are one and the same? Things have changed since the era in which St. Paul wrote. He addressed the issues of the time.
There are numerous examples in the New Testament where Jesus denounces capital punishment. That message may come at a later date. There is not enough room to chronicle all those references here.
Money and the death penalty:
Several speakers brought up the exorbitant costs of implementing the death penalty, even if the state has no one on death row. Two participants brought up the fact that the death penalty will cost the State of Iowa an ongoing annual appropriation, even if there is no one residing on death row. The Death Penalty Information Center has posted on its website a recent "study of Nebraska's death penalty [which] found that the state spends $14.6 million per year to maintain its capital punishment system." It's not appropriate for the Iowa Legislature to maintain a separate budget for a project which is not necessary.
There are many more interesting pieces of information provided by the speakers. An MP3 recording of the subcommittee meeting is available upon request.
At the end of the meeting, subcommittee Chair, Senator Garrett reminded everyone that this is a "very limited bill," and that there are "safeguards in the bill paying attention to the mental state of the defendant." It is a limited bill. Anyone who has been around Iowa politics for the past forty years knows that former Governor Terry Branstad offered a "limited" death penalty bill during every General Assembly. Each bill was limited in a different manner. A smart political practice is to get "your foot in the door." Otherwise, get a bill that includes only the basics. Thereafter, amend the law to expand the scope of its original intent. When a legislator tells you that he or she has no intention of expanding the law's range of limitations, understand that another legislator, or general assembly will pick up where the original law was "limited."
Senator Garrett also informed listeners that just because there are studies out there saying that the death penalty is not a deterrent, there are just as many studies proving that it is a deterrent, "you just have to look harder." You can't argue with facts. States that have capital punishment, such as Texas and Florida, have higher murder "rates" than those without the death penalty, such as Iowa, New York, and Michigan.
What about victims?
His final comment was that he hasn't heard much from victims. That is understandable, but not truthful. Two speakers came forward talking about their life experiences. One such victim was Christy Wolfe. Two of Ms. Wolfe's sisters were brutally murdered in Pittsburg, PA, by a neighbor who was eventually found and arrested. He was convicted and is serving life sentences in Pennsylvania. The family did not want a death penalty, and one was not sought. Ms. Wolfe's mother conveyed her message to the legislators through Christy. The process that brought the defendant to serve life in prison has brought the family closure, whereas a move to seek the death penalty would have brought about years and years of appeals, motions, and an everlasting life of never bringing finality to the murders.
In addition, if the law is so narrow in scope as to be extremely rare, as Senator Garrett proclaimed, there would be so few victims. That is IADP's point. If victims didn't come forward, perhaps there is no need to go forward with a law that may not be used in our lifetimes, but will cost us millions of dollars yearly in upkeep for a facility that sits empty.
There is always an alternative
It has been noted that since Governors Branstad and Reynolds took office in 2011, there are 65 unsolved murders, according to Iowa Cold Cases. That statistic does not include any homicides from 2020 because they aren't "cold" yet. It would be a much more fruitful effort to concentrate money, time and personnel on reducing the number of cold cases in Iowa.
Contacting legislators
Please contact your senator and representative and ask each if they oppose the death penalty. Then, we ask you share that information with us. info@iowansagainstthedeathpenalty.com or mrtyryn@gmail.com
Contact information for your senator and representative should be located on their legislative website page. For senators, locate the name of your senator and click on the senator's name. Information on the senator's committees, legislation introduced, email address, physical address, cell phone and Senate phone will come up on the senator's page. For representatives, follow the same procedure as previously outlined for senators.
Is this a serious threat?
Yes! Turnover in the Iowa House of Representatives, and especially the Iowa Senate has brought new legislators with different views than of those they replaced. We need your help to identify the positions of your senator and representative.
It costs to run any organization. While IADP operates entirely with volunteers, it costs money to maintain a website, to print and mail materials, and to organize events.
Your membership in IADP
Membership in Iowans Against the Death Penalty is $15 annually. If you cannot recall the last time you paid yearly dues, your membership has most likely lapsed. We encourage you to join us by submitting a check for $15, along with your name, address, zip code, and email address to:
IADP
PO Box 782
Des Moines, IA 50303
Or, by joining online at: http://www.iowansagainstthedeathpenalty.org/join-our-mailing-list
IADP is a section 501(c)(4) organization which uses some of its funds for lobbying.
Membership contributions to IADP are NOT tax deductible.
Iowans Against the Death Penalty FUND is an IADP sister organization which can accept tax deductible gifts and grants since it is a section 501(c)(3) organization with the Internal Revenue Service. Making a tax-deductible gift to the IADP FUND does not mean you are an IADP member.
Updates to death penalty news in Iowa
IADP will continue to send out timely news on the death penalty in Iowa as it becomes available. If you choose not to receive these messages (no more than necessary), please respond to this email by typing "Unsubscribe" in the subject line.
Iowans Against the Death Penalty is a single-issue organization established in 1962. We were instrumental in the repeal of the state's death penalty law in 1965, and IADP has worked vigilantly to resist efforts to reinstate it over the years.
Marty Ryan
resident, Iowans Against the Death Penalty. www.iowansagainstthedeathpenalty.org
Annual Meeting, Friday, November 10, 2017
Iowans Against the Death Penalty held its Annual Meeting Friday, November 10, 2017 at the Des Moines Marriott followed by its 55th Anniversary Banquet and Governor Harold E. Hughes Award presentation.
Mark W. Bennett, Senior United States District Judge of the United States District Court for the Northern District of Iowa was the keynote speaker. Bennett is the only living judge in Iowa who has presided over two death penalty cases.The Governor Harold E. Hughes Award was presented to former Iowa Governor Robert D. Ray; former Iowa State Senator and Representative Jack Holveck; Representative David Johnson; the late Iowa State Senator and Representative Mary Lundby; Iowa State Senator Dave Mulder; former Iowa State Senator Maggie Tinsman; the ACLU of Iowa/ICLU; Tim McCarthy and the Iowa Catholic Conference; the late Paul Stanfield, lobbyist for the Iowa Catholic Conference and MICAH Corp.; the Iowa Annual Conference of the United Methodist Church; Julie Fleming and the Office of the Iowa Attorney General; Judie Hoffman and the Iowa League of Women Voters; Lyle Krewson; and the late Jack Shaffer who lobbied for IADP and who also designed the IADP logo.
The Hughes Award was established in 2003 to honor individuals and organizations for their advocacy work against efforts to reinstate the death penalty. Prior award recipients include Charles E. Day and Marjorie Parris, Gov. Tom Vilsack, University of Iowa law professor David Baldus, Des Moines attorney James Benzoni, and the late Sen. John Ely. In 2012 the award was presented to Marty Ryan.
IADP to honor Marty Ryan with Gov. Hughes Award Nov. 10, 2012

Marty Ryan was honored by Iowans Against the Death Penalty Saturday, November 10, 2012 with the Governor Harold E. Hughes Award at the organization's 50th anniversary dinner held at the Marriott Hotel in downtown Des Moines. The keynote address was delivered by Rob Warden, award winning legal affairs journalist and executive director of the Center on Wrongful Convictions, Bluhm Legal Clinic, Northwestern University School of Law .Iowa native Rev. Tricia Teater of the Illinois Coalition to Abolish the Death Penalty was also spoke about her work as a spiritual director to death row inmates.

"As a lobbyist and activist Marty has worked vigilantly for more than two decades to prevent reinstatement of the death penalty in Iowa," said IADP chair Dennis Barnum of Gowrie, Iowa.

Beginning with his work as the legislative director for the ACLU of Iowa for 18 years, Ryan helped to build the coalition organizations that comprise Iowans Against the Death Penalty. He keep track of lawmakers' positions on the death penalty and monitored any legislative attempt to bring the death penalty back.

"Marty always kept his vote count close to the vest, knowing which legislators stood against reinstatement. His work at the State Capitol has been important in maintaining Iowa's status as an abolitionist state," said IADP board member Patti Brown.

Ryan has continued to keep a watchful eye on the issue at the Iowa Statehouse through his work with Fawkes-Lee & Ryan, a legislative and public policy advocacy firm founded in 2010 with his wife Stephanie Fawkes-Lee. The firm does contract lobbying legislative monitoring, legal research and writing, and publishes an on-line newsletter that focuses on legislative and public policy issues.

Ryan is a native of west-central Iowan. He was born in Carroll and raised in Vail, a town founded in 1867 by his great-grandfather. Following graduation from Kuemper Catholic High School in Carroll Ryan was drafted and served at Fort Lee in Virginia during the Vietnam War.

In addition to his work with the ACLU, Ryan has worked as a heavy equipment operator, a land surveyor's assistant, a retail and wholesale meat cutter, dislocated worker grant administrator, a legal assistant, and a labor negotiator and organizer for UFCW Locals 440 & 271. Ryan has two adult daughters and three grandchildren.

Previous recipients of the Hughes award include former Iowa Governor Tom Vilsack, University of Iowa law professor David Baldus, Des Moines attorney James Benzoni, the late Sen. John Ely, Chuck Day and Marjorie Parris.

Death House Chaplain Speaks About the Wrongs of the Death Penalty

On October 18, 2009 Rev. Carroll Pickett, a retired Texas death row chaplain spoke to a gathering at First Christian Church in Des Moines. The event was co-sponsored by IADP and Amnesty International 277.

Rev. Carroll Pickett spent fifteen years as the death house chaplain at "The Walls," the Huntsville unit of the Texas prison system. There he ministered to 95 men before they were put to death by lethal injection. Rev. Pickett was featured in the award-winning documentary At the Death House Door and is the author of the acclaimed memoir, Within These Walls, an eloquent, unflinching look at his intensely personal exposure to capital punishment. This firsthand experience gave him unique insight to write an impassioned statement on the realities of capital punishment in America and about the dark world of prison society. Rev. Pickett is today an outspoken anti-death penalty activist. He is retired from the Department of Corrections but still preaches near Huntsville, Texas.

On day following his IADP/AI appearance, Rev. Pickett spent 90 minutes in a lively debate of the death penalty with Jan Mickelson on his WHO radio call in show. While not fully "converting" Mr. Mickelson, Rev. Pickett did get him to agree that executing innocent people was not acceptable. Following the interview, Mr. Mickelson was interested enough in the topic to ask for and obtain a copy of Rev. Pickett's book Within These Walls and a copy of the video "At the Death House Door."

Following his radio appearance, Rev. Pickett was the guest speaker for three senior and two sophomore religion classes at Dowling Catholic High School in West Des Moines. He said that he really enjoyed his interactions with the students. One of the more compelling things he did was to ask how many in his audience were seventeen. After seeing the hands go up, Rev. Pickett then proceeded to tell the classes that the second person he accompanied to the death chamber was a young man who committed his crime at age seventeen, but that the US Supreme Court has since outlawed the death penalty for juveniles. This appeared to make the topic much more relevant and real to the young people listening to his presentation.

View poster
IADP Marks 45th Anniversary
IADP marked the organization's 45th anniversary October 27, 2007 with an award banquet at the Catholic Pastoral Center in Des Moines. Dennis Fritz, author of Journey Toward Justice. Exonerated from a life-sentence for a rape and murder he did not commit, Fritz shared his story - made famous by John Grisham in The Innocent Man - with more than 150 people at the IADP banquet and also with groups at the University of Iowa College of Law, the Drake
University Law School, St. Catherine of Sienna Catholic Student Center in Des Moines and at the Coralville and West Des Moines Barnes and Noble
Booksellers.

The event honored four individuals with the second Gov Harold E. Hughes Award for their advocacy work in helping maintain Iowa's position as a non-death penalty state. The recipients were Gov. Tom Vilsack, University of Iowa law professor David Baldus, Des Moines attorney James Benzoni, and the late Sen. John Ely.

"Each of these individuals has worked valiantly to keep Iowa from reinstating the death penalty and they deserve our recognition," said IADP president, Dennis Barnum of Gowrie, Iowa.

In 1995 after a reinstatement bill had passed in the Iowa House, then Sen. Tom Vilsack was a voice of clarity as the Iowa Senate debated the death penalty issue. The measure was resoundingly defeated. During his eight years as governor, Vilsack's position on reinstating the death penalty in Iowa helped take the sails out of several ill-fated attempts by a handful of legislators who, predictably, would introduce such legislation.

University of Iowa Law School Professor David Baldus has conducted research on racial disparity in death penalty sentencing cases. His work has received national acclaim. Working with George Woodworth, Baldus examined the death penalty rates among all death eligible defendants in Philadelphia, Pennsylvania between the years of 1983 and 1993. The results of their study proved that the odds of receiving the death penalty in Philadelphia increased by 38 percent when the accused was black. With Woodworth and Charles Pulaski, he is co-author of Equal Justice and the Death Penalty: A Legal and Empirical Analysis.

Attorney James Benzoni, who has specialized in immigration law, has been a long-time IADP supporter. In 1995 he provided testimony in the Iowa House of Representatives as a death penalty bill was being considered. Benzoni, who graduated magna cum laude from St. Meinard's College and who is a member of the Order of the Coif and graduated with honors from Drake University Law School, was arrested and charged with murder in Oklahoma in 1986. He credits his family and their ability to hire a private detective who uncovered evidence of his innocence, and recognizes that not everyone who is wrongfully accused of a crime has the same resources he did. His career path has been largely influenced by his experience.

Former State Rep. and Sen. John Ely was a civil libertarian and dedicated humanitarian. He served two terms in the Iowa House and the Iowa Senate beginning in 1961. A redistricting plan — that he voted for — left him without a district in 1969.

During his tenure, he fought to abolish the death penalty and even witnessed the last execution by hanging to ever occur in Iowa—that of Victor Feguer in 1963. "It was done on the Ides of March," Ely said. "I was able to witness it because of a technicality in the law which said that any legislator can be admitted to a prison facility at any time. I used that 'loophole' to get in. I wanted to see it firsthand to know what I was going to be fighting against."

John considered his initiatives to abolish of the death penalty in 1965, to pass the Iowa Civil Rights Act of 1965, and the Open Housing Law in 1967 to be his greatest achievements as a legislator. In addition, he also sponsored the Iowa Civil Rights Act of 1965, and he was instrumental in establishing the Iowa Civil Rights Commission. He was co-leader of the Moratorium March of 1969.

Gov. Vilsack receives the IADP Gov. Harold E. Hughes Award from Marty Ryan, ACLU of Iowa legislative director.

University of Iowa law professor David Baldus accepts the IADP Gov. Harold E. Hughes Award from former law student George Appleby of Des Moines, right, and IADP president Dennis Barnum, left.

Peggy Ely accepts the IADP Gov. Harold E. Hughes Award for her late husband, former State Rep. and Sen. John Ely.

Civil rights advocate and Des Moines attorney Jim Benzoni accepts the IADP Gov. Harold E. Hughes award from former Iowa State Representative Ed. Fallon, right, and IADP president Dennis Barnum of Gowrie, left.